Sound Healing Afternoon Fundraising Event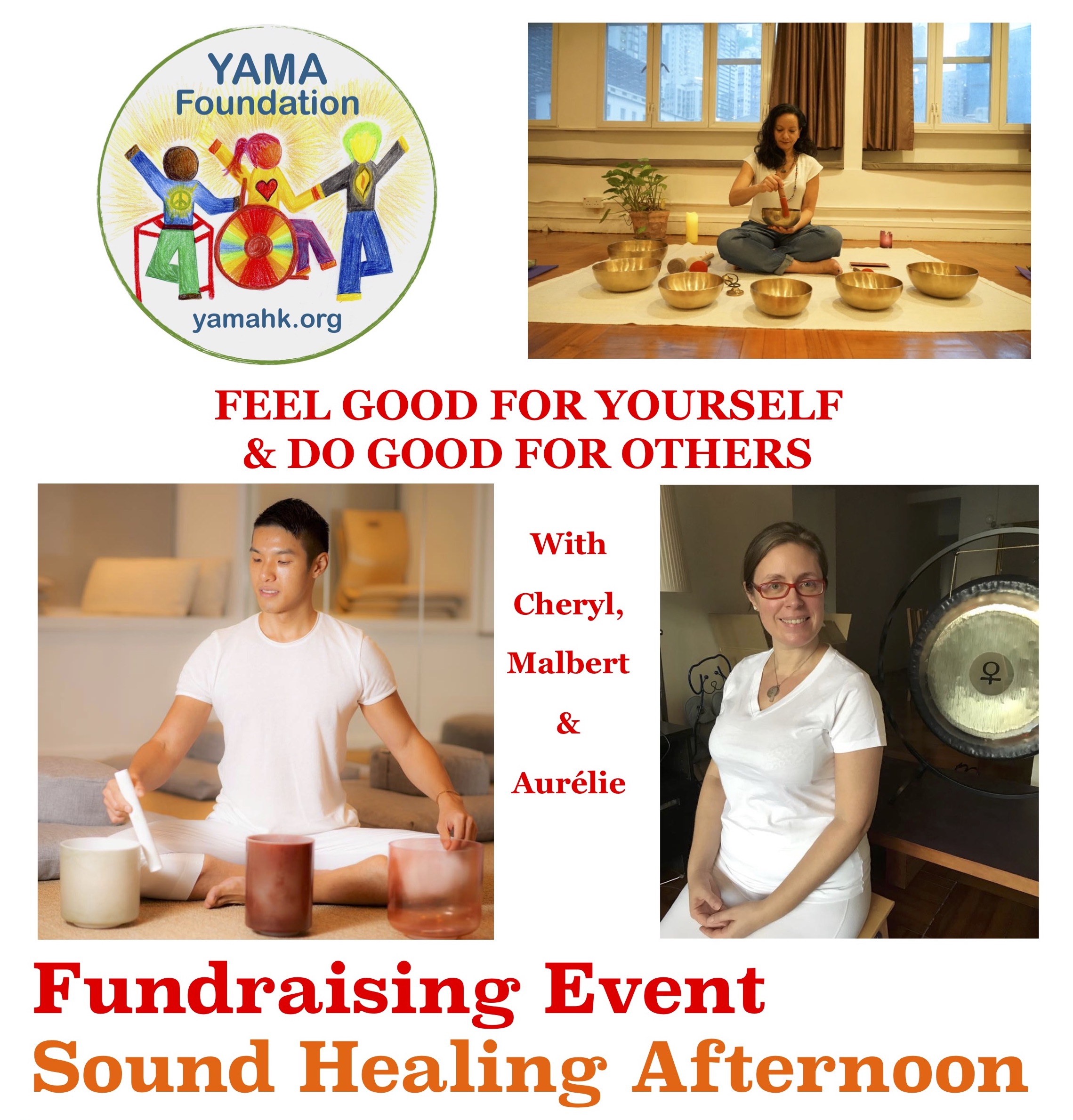 Sound Healing Afternoon Fundraising Event
FEBRUARY 23TH - 4PM TO 6PM
Join Cheryl, Malbert & Aurélie and immerse yourself in the sound vibrations of the gong and singing bowls for a healing, cleansing and relaxation afternoon. All proceeds of this event go to YAMA Foundation.
Location: Platform, Floor 1, 120 Connaught Road West, Sai Ying Pun - MTR exit A

Aurélie Gauthier
As a French teacher and an Integral Yoga Teacher, Aurélie has been spending the last few years experiencing for herself and her students, at school and on the mat, ways to alleviate the stress of everyday life. Following an injury, she started to attend regular gong baths and pujas, as she felt instantly the benefits of the gong vibrations and realised the power of sound healing. She completed Gong Trainings with Gong Masters Martha Collard in Hong Kong and Aidan McIntyre in the UK. She also trained with Grand Gong Master Don Conreaux. A long term student of Hersha's, Aurélie is also part of the YAMA Foundation team
Cheryl Rodriguez
Cheryl has been receiving healing therapies for more than 20 years as a form of relaxation to balance a corporate lifestyle. In 2016, she first discovered sound healing during a trip to London when she stayed behind for a gong meditation by Leo Cosendai after a yoga class. Upon returning to Hong Kong, she began attending gong bath meditations regularly for relaxation. Following an unexpected surgery in 2017, Cheryl directly realized how powerful sound healing was in the post-surgery recovery process and decided to study this and other therapies in order to share complementary therapies with others. Cheryl has taken Singing Bowl Therapy and Wellness Integrative Healing training with Dr Buathon Thiennarom, Tibetan Sound Healing training with Dynamic Energy Institute and also Gong training with Martha Collard. She is currently pursuing certification in Watsu, a form of healing aguatic bodywork.
Malbert Lee
Malbert Lee is a yoga and sound meditation coach from Hong Kong. He travels all over the world and found that yoga and sound help him to stay healthy and grounded. Malbert brings his whole heart to sound meditation, a transformational mindfulness practise through sound vibration. He has trained with Grand gong master Don Conreaux, gong masters Martha Collard, Mark Swan, Aidan McIntyre (who is both a gong and singing bowl master) and singing bowl master Santa Shakya. As a yoga and sound meditation coach, Malbert encourages members to explore and unleash their full potential through natural movement, breath and mindfulness. "Life should be fun and enjoyable, like yoga and sound healing!"